17.6.2023 - 18.6.2023




10:00 - 18:00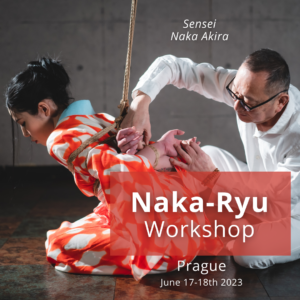 Naka Akira and Iroha Shizuki, one of the most beautiful and iconic Kinbaku couple of Japan, is back for 2 days intensive workshop that will take place in Prague at Subspace Studio!
It will be an immersive workshop dedicated to riggers and models who are already familiar with suspensions.
It will be an incredible opportunity to learn the more traditional Japanese Kinbaku with this outstanding Master, share with him comments and suggestions during the lessons and in the informal breaks, where Naka san will expound not only techniques, but most of all, the spirit of Kinbaku and Semenawa.
During the workshop Naka san will show his foundations, to go through the more complicated ties. Naka san will also comment short clips coming from some of his most iconic movies, that will help the audience to go deeper in his style, offering further sparks for discussions, questions and making the experience even more interactive for the participants.
Naka-san will be assisted by his Deshii, Riccardo Wildties, and by Riccardo's certified instructors, Soptik and Kurogami.
Participants of the workshop will have free entry to the Kinbaku Live Night of Friday 16th June – see the event  here: www.subspacestudio.cz/akce/2023-06-16-shownight
In a renewed spirit of intimacy, attendance is limited to 11 couples. Places will run out quickly, so we recommend all the interested people to be fast.
Useful information
Workshop will be held in Japanese and translated into English.
Pre-requisites for participants

Riggers must have attended the Naka 1 and Naka 2 workshops with Kinbaku Luxuria or at least a Naka 1 and a private weekend (or equivalent classes with Kurogami and Shiawase or Soptik in Subspace).
Special conditions might apply, please contact us if you are not sure if you qualify for the workshop.
Models must have a wide experience in semenawa suspension.
Registrations are approved according to level of participants.
Bring with you
Participants will need to bring a minimum of 14 ropes.
Workshop location
The workshop will be held in Prague near Anděl in our beautiful studio. The exact address will be sent to you by mail after confirmation of your registration.
The Subspace studio is equipped with futons, blankets, kitchen, shower, etc.
The venue will open at 9:30 on both days.
How to register
The workshop is organized by Kinbaku LuXuria. Please write in private to Red Sabbath on Facebook or mail freebri@gmail.com for info, prices and reservations.